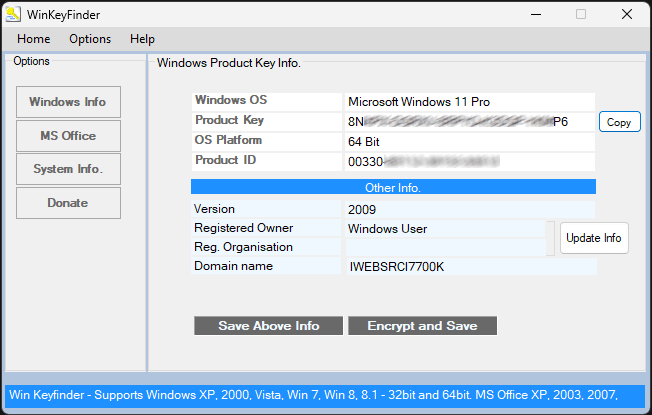 Win keyfinder 2.2.1.5 is a Small Freeware Utility that helps find Windows Product/CD Key that were used during Windows Installation from the System Registry, it can retrieve lost product keys from MS Windows 11, Windows 10, Windows 8, MS Windows 8.1, Windows XP, Windows 2000, Windows ME, 98, 2003 and .NET Product keys from the registry and display it for you.
Release Notes: (28/10/2023)
Version 2.2.1.5
Fixed Bug related to not showing the product key in some cases
Fixed Bug with product key displayed as 'BBBBB-BBBBB-BBBBB-BBBBB-BBBBB"
New feature: Display OEM product key, if it is a OEM system.
Version Update (25/02/2023)
Fixed issues with the MS Office key not displaying
Fixed Decrypting the file bugs
Fixed Encrypt and save bugs
Many other optimisation and bugfixes
Update(06/09/2022): Supports Windows 11
Win keyfinder Release notes: (04/15/2022)
Version 2.10
Minor changes to the code
Two minor bugs fixed

Release Notes: (12/03/2019)
Version 2.05
Fixed a few bugs, enhanced some settings
Win key finder release Notes: (13/12/2017)
Version 2.03
Fixed a Simple bug with Windows info. display labels.
Version 2.02
Fixed Bug with MS Office 64bit and 32bit issues reported by the user!
Version 2.01
Fixed a few bugs with the system information display
Version 2.0 Final
Fixed a Bug where Windows 10 Product key was displaying incorrectly.
Fixed donate URL.
Here are some key features of "Win KeyFinder":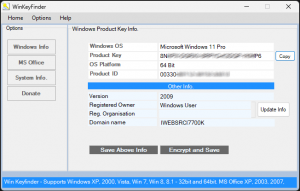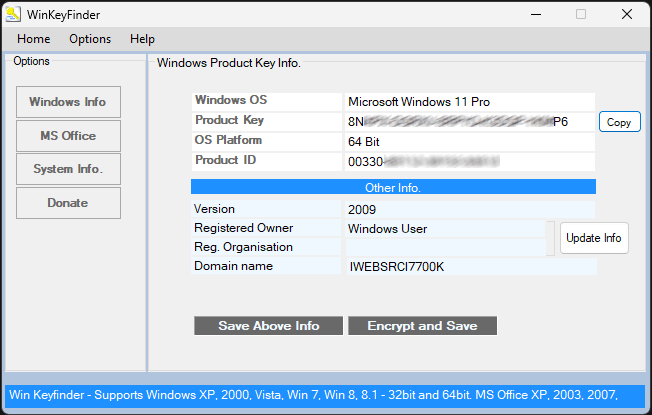 View Windows XP Product Key
View Windows 11/ Windows 10, Win 8/ Win 8.1 / Win 7 / Win Vista 32bit / 64-bit Product/CD Keys.
View Windows 8 and Windows 8.1 Product CD Key [Both 32 and 64-bit OS ]
Windows 2000 Product Key retrieve
View .Net Product Key
View Windows 2003 Product Key
Save Your Product Key By Encrypting It
Generate Unique Passwords By Entering your Combination of Key Code
Support for MS Office 2007 and 2010, 2013, 2016 32-bit OS, 32/64 bit Office supported.
If you have more than one MS Office installed only one key is displayed.
Read the FAQ Here
Win Keyfinder has the following new addition/support:
Made for

Windows 11, Windows 10 Ver.2009/ Windows 8 and 8.1

100% works on x64 bit and 32 Bit Operating systems
Coming soon Windows 10/8/8.1 BIOS OEM Key Support
Better Code optimization
Some minor bugs were fixed.
Windows 7/ Windows 8 / Windows 8.1 OS and Windows 10 / Windows 11 support
Support for MS Office 2007, 2010, and MS Office 2013(Some installation of MS Office like from Dell etc, comes with Pre-installed MS Office and have no Product key in the registry, in that case, Win keyfinder will not be able to retrieve the key)
Removed Backup Activation and restore
Many bugs were fixed.
Overall application stability
---
Watch the Video:
---