How to Add Start menu to Windows 8
One of the main backdrop of windows 8 is not having a Start Menu button, which we are so fond, Start menu is iconic in Windows Operating systems, until Windows 8, for some reasons Microsoft decided not to include it in the latest edition of Windows OS, not even giving users the option to have Start Menu or disable it.
Any one who is familiar with Windows 7 will surely miss using the biggest feature of Windows "Start Menu", I recently upgraded from my laptop from Windows 7 to Windows 8, and found it very interesting and something new to work with, but missed Start menu button, hence decided to install it manually, during my research for installing Start menu I came across ninite.com.
Ninite.com provides a simple installer that lets install Windows Classic start menu, it easy fast and even a no0b will be able to install it.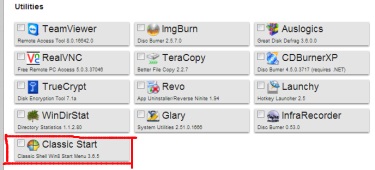 Just visit www.ninite.com -> Select the list of applications you want (Optional), and select Classic Start (Classic Windows 8 shell Start Menu) -> Click Get Installer.
The Installer will be downloaded, double click on installer and that's it, as easy as it gets.
You can customise the look of Windows 8 Start menu, to look like Windows 7 or XP or classic.